What Our Customers Say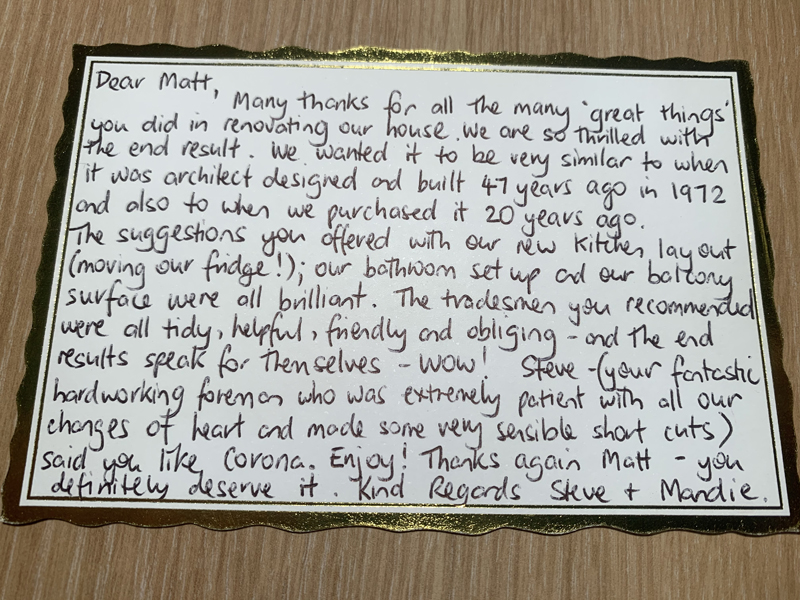 Jeanette and Bob Clark
When we were looking for a new home we had an idea of what we wanted as we were down-sizing from a four bedroom home to a town house. After looking and checking on the finish style of certain homes and discussions with people who had their homes built by Matt Camilleri we decided he was to be our builder.
We wanted a home with sleek sharp lines that would hold their age over time. As we were discussing we wanted our home to be open and give a feeling of space. Our ideas were discussed and with a few suggestions from Matt our home was designed by RGR Designs. Matt's professionalism and the craftsmanship of his team are a credit to them all. Throughout the building process his team didn't hesitate to have a discussion with you if they needed to, to ensure every detail was completed correctly. We thank them all for our beautiful home and would recommend Matt Camilleri building to any future clients who are look to build their dream home.
Jeanette and Bob Clark
Bernie and Carol King
My wife and I decided to retire and relocate to Forster. We also decided to build a new home, for the third time. We were introduced to builder Matt Camilleri and from that meeting we were convinced and confident that Matt should be our builder. From quote through contract and completion we did not have any difficulties.
Our trust was justified during the early stages of building. We were still in Sydney, our builder was totally trustworthy and by completion had kept within his comprehensive quote. We have no difficulty in recommending Matt Camilleri to anyone.
Bernie and Carol King
George Beverley and Cynthia Blake
We have much pleasure in highly recommending the skills and professional integrity of Matt Camilleri. Matt was recommended to us by Grahame Roberts who completed design plans for our extension/renovation in Lakeview Crescent.
The site was difficult in that it was steeply sloping to the east, with an existing home in need of extensive renovation. The house was one of the original buildings at Burgess Beach believed to be a fisherman's cottage with timber frame and weatherboards, later clad in red bricks. The outlook over the ocean and Cape Hawke was unique and of such quality that a very high level of sympathetic treatment was called for. Both Grahame and Matt collaborated to suggest and implement the development for which we had hoped, to take advantage of the superb views and provide a very luxurious environment to enjoy the beachside vista.
Matt's workmanship was of the highest quality and he and his team were always willing to improve outcomes which we, from time to time, asked for. The end result of the substantial extension and renovation resulted in a home which all our friends agreed was an outstanding success and a wonderful tribute to Matt for his determination to produce a very high quality and delightful place for us to enjoy. The extremely friendly and co-operative relationship that existed throughout the project with Matt and his team was very much appreciated and at no time was there any hesitation to assist with our suggestions as the project evolved.
We are very much indebted to Matt, Grahame and the team and we continue to enjoy the result of their efforts. We would not hesitate to recommend Matt to anyone considering renovations/extensions in this area and if we ever considered further projects, Matt would be our number one choice.
George Beverley and Cynthia Blake
Bob and Regina Symington
Matt Camilleri Building performed both renovations and extensions to our home in Forster Keys. Matt had some wonderful ideas on updating our thirty year old home to a modern open plan design.
The quality of the work is outstanding and he and his team were always punctual and reliable. On one occasion they extended and renovated the rear of our home whilst we were on holidays. On return it was as if we walked into a brand new home. Windows were cleaned, floors washed and carpets vacuumed and no outside indications that the builders had been here. We were delighted! We entertain regularly and our guests often say our home now has the "wow" effect. We have also had the same comments from real estate agents. We would have no hesitation in recommending Matt Camilleri Building for any building or renovation work.
Bob and Regina Symington
Thanks
We would gladly recommend Matt Camilleri building after having had a home built by them 18 months ago. The workmanship is of a high standard and Matt uses only quality tradesmen. Matt and his team take great pride in their work and made sure we were happy at every step of the process from designing to completion. Any problems since moving in have been dealt with to our satisfaction and nothing is too much trouble.
Thanks